Live Music
The entertainment starts at 8:00pm and consists of 3 sets of live music, with two breaks, concluding at around 11:30pm. Dance the night away to our featured band on stage. Line Dance, Jive, Swing, Freestyle – anything goes! Just remember to keep your head up, make sure you smile, and most of all enjoy yourself!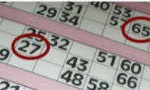 Bingo
The first break at 9pm includes a short session of Bingo from 9:15 – 9:30pm. Bingo books can be purchased from 'Ma Kettle's Shop', with the chance to win over £100!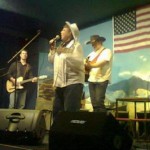 Charity Spot
Around 10:00pm a volunteer singer is invited on stage to sing with the band to help raise some money for charity. If you fancy yourself as a bit of a country singer why not have a go? Just choose a favourite song to which you know all the words (which usually helps) and the band will endeavour to accompany you!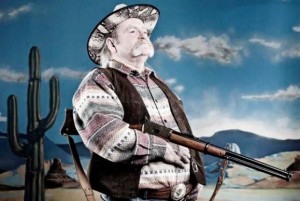 Fun with the Guns
The second break at 10:15pm includes the shoot-out,western style fast-draw competition to which the audience is encouraged to participate in by cheering for their favourite cowboy.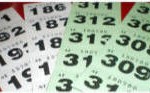 Raffle
After the shoot-out there is the Raffle and the 'Lucky Pound Draw' with the chance to win a bottle of spirits or £10. All proceeds go to various charities along with cash raised by the evening's Charity Spot performer.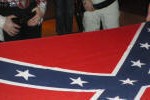 The American Trilogy
The live music concludes at 11:30pm which is then followed by the club anthem, the American Trilogy, and the flag folding ceremony to which members of the audience are welcome to participate in by joining the flag party on the floor. Click here to read about the history behind the ceremony.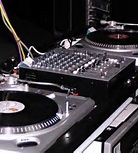 Resident DJ
During breaks and after the club anthem, a selection of great music from our resident DJ is to be enjoyed until the evening finally closes at 12:30am.
If you need to know anything about country music the DJ is the person to ask. The Opry has a large selection of  traditional and up-to-date country tracks and the DJ is open to requests.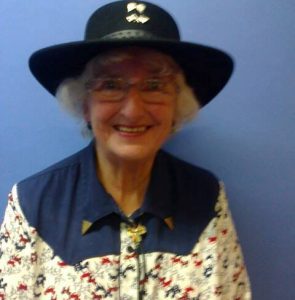 Announcements
Compere for the evening and linking everything neatly together is our lovely hostess Cathie. If you are celebrating a special occasion or would like to volunteer for the charity spot Cathie is the person to speak to.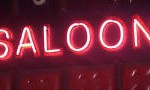 Refreshments
The bar, where you will find one of the cheapest tariffs in Glasgow, is open until last orders at 12:00pm, all served by our friendly bar staff.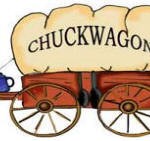 Chuck Wagon
The Chuck Wagon is located on the top level of the club offering a large selection of hot /cold snacks and meals…..click here for a menu and details on how to pre-order special meals.
| Top of Page |  | What's On |  | Contact Us |