MONDAY | Gun Club – 1st & 3rd Mondays (More…)
TUESDAY | Gunslingers Re-enactment Group – weekly, 7.30 to 10.00pm
WEDNESDAY | Rock Til U Drop Jive Class (More…)
THURSDAY | Some Specials – check below for updates
FRIDAY | Club Night with Live Music – see Calendar below
SATURDAY | Club Night with Live Music – see Calendar below
SUNDAY | Some Specials – check Calendar below for updates
_____________________________________
PRIVATE FUNCTIONS | The club is also available for Private Functions Sunday to Thursday… contact us for more details
CHUCK WAGON | On the top level offering a large selection of hot & cold snacks and meals (More…)
QUIZ | Have a go at our bi-monthly quiz to win free entry to the Club for 2 persons (More…)
_____________________________________
Evening Programme (Fridays and Saturdays)
"A Night At The Opry" – schedule of events on a typical club night (More…)
_____________________________________
Admission prices
Friday or Saturday club nights £5 for visitors | £4 for members |
£6 for members for two club nights (Fri and Sat) | Annual membership is only £7 |
Prices for Specials and Charity Events vary – details will be published below
Things to note:
– The club is strictly over 18's only
– Acts might change without prior notice. It is advisable to telephone on 0141 429 5396 before you travel if you are keen to see a particular band. Or check our Facebook page for late updates.
CALENDAR  July/August 2019

July



Friday 5th |  Carson City
Saturday 6th| Texas Tornados
Friday 12th| Alabama Stateline
Saturday 13th | Blue Horizon
Friday 19th | Stealaway
Saturday 20th | Border Radio
Friday 26th |Western Rhythm
Saturday 27th| Pacifico
August

Friday 2nd |Crossfire
Saturday 3rd |Deep River
Friday 9th| Trampas
Saturday 10th| Cimarron
Friday 16th| Stealaway
Saturday 17th| Nickels & Dimes
Friday 23rd | Greyhound Express
Saturday 24th |Big City
Friday 30th | Stillwater
Saturday 31st |  Sierra Moon

Forthcoming Events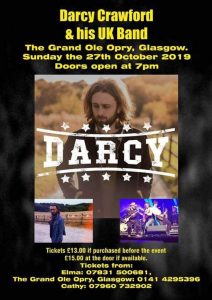 N.B. The Chuck Wagon will be open for this event.
| Top of Page |  | Contact Us |