Great News
We are opening again from Friday 28th January now that some restrictions have been lifted.  The same rules on contact details, social distancing and mask wearing will still apply, but at least we will be able to meet again and enjoy our country music provided by our fine musicians. Check out our What's On page for details.
Easter Egg-Stravaganza
UnfortunatelyThe Opry Easter Party has had to be moved due to an Admin Error. It will now be on Sunday 10th April 2022. If you want tickets, or a refund for your cancelled New Year tickets please ring the club Mon to Thurs 10am till 1pm or send an email. Refunds will only be issued upon presentation of the purchased ticket. Attendance numbers will still be capped at 200 so please contact us as soon as possible to guarantee your seat.  Further details will follow.
Affiliated Clubs
Re-opening of Gun Club, Re-enactment Club and Jive Club will be delayed due to current restrictions imposed by Covid rules. Hopefully, these clubs will be able to resume during the week beginning 31st January. Updates to this situation will be notified here.
Opry Neon Sign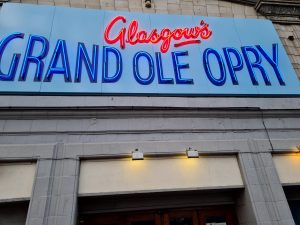 The new sign has now been installed and it's looking good.  When we re-open on Friday 24th September, it will be like a shining beacon to welcome us all back!
Big D's Country Music Quiz
Big D's Quiz No.20 is now up on the Quiz page. Time on your hands due to the situation with Corona Virus ? Pass the long hours finding the answers.
Gunslingers Re-enactment Group
Remaining closed until further notice.
Gun Club
Remaining closed until further notice. 
Facebook
Please note we have a new Facebook page, Glasgow's Grand Ole Opry Members and Supporters.  Keep up to date on the latest Opry happenings and debates by contributing a post to the page. Why not join the Opry Club itself and enjoy reduced admission charges on Fridays and Saturdays? It's great value and a brilliant night out with live music and very competitive bar prices.
Website
There have been numerous visits to the website since it began and this, hopefully, translates into more visitors to the Club itself.  If you are looking for a night out with a difference and one that won't break the bank, come along and soak up the friendly atmosphere and make new friends.
Country Music Needs More Support
With bands folding all too often these days it is increasingly urgent for country music fans to support the clubs and bands still in existence. The Opry offers members free admission on a Saturday evening for the payment of just two extra pounds on a Friday evening. You can't get better than that – two nights of live entertainment for just £6! If you know of any members who haven't been at the club for a while, why not encourage them to come along again to enjoy the music, dancing and keenly-priced drinks from the bar! Since the start of 2017 the club has been well attended on Saturdays, and Fridays have also picked up which is encouraging in these strained economic times. Visiting parties (birthdays, hen and stag nights, etc) have helped to swell the figures but we also need the members to support the club as much as possible. Spread the news among your friends and neighbours that the Opry offers a great night out. The number of visiting parties demonstrates that it is seen as a fun venue and is somewhere a bit different to celebrate an event.
News Items
If anyone wishes to submit an article or news item for inclusion on this page, please e-mail it to f.downie@ntlworld.com or hand it in at the club for the attention of Fionna Downie.
Some Useful Links
Here are some websites which might be of interest:
Country Music & Dance in Scotland & Ireland magazine : www.cmdscotland.org.uk
Country Music people magazine: www.countrymusicpeople.co.uk
UK Country Radio: www.ukcountryradio.com
Regal Country with Willie Evans, every Sunday at 10am for 2 hours Willie plays the very best of old and new country : www.regalradio.net
CMR Nashville – Internet Radio: www.cmrnashville.net
Tranquility Wild West Town: www.tranquilitytown.yolasite.com
and check out www.cmib.co.uk, the site for all things country in the UK with many links to the rest of the world.
The Honky Tonk Cabin – an hour long radio programme featuring Festivals, New Releases, and Interviews with artists (all UK) : https://www.youtube.com/channel/UC95xvDkXhSwyX14iw6cLwdw
| Top of Page |