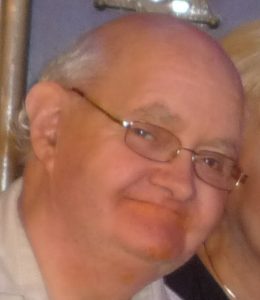 Rowdy  (Ewan Graham)

It is with great sadness we have to report the death of Rowdy Yates, one of the Opry's longest serving and well-loved members.  We all knew that Rowdy was not a well-man, as he had retired from his post as the Opry's DJ after almost forty years. He was always pleased to play a request for you and did so with a big smile.  A walking encyclopaedia of country music, he knew everything there was to know about the genre.  His good friend Margaret Brown recalls how she often tried to beat him at questions to do with the scene, but says it was never easy.  Rowdy called the Opry his home and it broke his heart on the weeks he was unable to attend.  He loved going to the Wembley Festival every Easter to see all the country artists in concert, in particular George Jones and Tammy Wynette, and to meet friends who attended each year. Rowdy also travelled with friends to Nashville and to various states in America to see his favourite artists. Margaret remembers being at a concert in Ireland to see Gene Watson and George Jones, and asking George if he would speak to Rowdy if she phoned him. He said he would be delighted to do this, but wasn't it just like the thing for Rowdy to be unavailable as he was working as a DJ at Radio Govan at that very time !  Rowdy thought Margaret was joking when she told him on her return.  A missed opportunity!  In conclusion, Margaret says it has been an honour and a pleasure to be part of Rowdy's life and she will never forget him. The same can be said for his many true friends who mourn his passing.  All friends are invited to attend Rowdy's funeral in Linn Crematorium, Castlemilk, at 12noon on Tuesday 12th February.  R.I.P. Rowdy.
Big D's Country Music Quiz
Big D's Quiz No.10 is now up on the Quiz page. Why not have a go to win two free admissions to a Club night ?
Gunslingers Re-enactment Group
Meeting every Tuesday in the Opry from 7.30 – 10.00pm, new members always welcome.  Next date Tuesday 12th March 2019.
Gun Club
Next meeting will be held on Monday 18th March 2019 at 7pm.  All welcome.
Facebook
There are now almost 2,000 members in the Opry Facebook community – and it's growing all the time. Keep up to date on the latest Opry happenings and debates by joining in. It's often a very lively forum! Why not join the Opry Club itself and enjoy reduced admission charges on Fridays and Saturdays?
Website
There have been almost 67,000 visits to our website since June 2014, and 1,159,316 hits. Hopefully this results in more people visiting the club itself. The software has recently been updated to make the site easier to browse on mobile phones and tablets.
Country Music Needs More Support
With bands folding all too often these days it is increasingly urgent for country music fans to support the clubs and bands still in existence. The Opry offers members free admission on a Saturday evening for the payment of just two extra pounds on a Friday evening. You can't get better than that – two nights of live entertainment for just £6! If you know of any members who haven't been at the club for a while, why not encourage them to come along again to enjoy the music, dancing and keenly-priced drinks from the bar! Since the start of 2017 the club has been well attended on Saturdays, and Fridays have also picked up which is encouraging in these strained economic times. Visiting parties (birthdays, hen and stag nights, etc) have helped to swell the figures but we also need the members to support the club as much as possible. Spread the news among your friends and neighbours that the Opry offers a great night out. The number of visiting parties demonstrates that it is seen as a fun venue and is somewhere a bit different to celebrate an event. The Opry can be hired for private functions too – even wedding receptions – at very competitive prices.
News Items
If anyone wishes to submit an article or news item for inclusion on this page, please e-mail it to f.downie@ntlworld.com or hand it in at the club for the attention of Fionna Downie.
Some Useful Links
Here are some websites which might be of interest:
Country Music & Dance in Scotland & Ireland magazine : www.cmdscotland.org.uk
Country Music people magazine: www.countrymusicpeople.co.uk
UK Country Radio: www.ukcountryradio.com
Regal Country with Willie Evans, every Sunday at 10am for 2 hours Willie plays the very best of old and new country : www.regalradio.net
CMR Nashville – Internet Radio: www.cmrnashville.net
Tranquility Wild West Town: www.tranquilitytown.yolasite.com
and check out www.cmib.co.uk, the site for all things country in the UK with many links to the rest of the world.
| Top of Page |