Temporary Closure
Regrettably, the Opry will be closed until further notice as a result of the advice from authorities on combatting the current Corona Virus pandemic. The Opry has a responsibility to provide a safe environment for its staff, members and visitors, as well as top class entertainment, so has had to take the difficult decision to close the Club until further notice to  avoid the spread of the virus. Closure became mandatory shortly after that decision was made. Unfortunately, restrictions are now likely to remain in place until at least the end of this year, 2020, so the Club will remain closed until 2021 at the earliest. Any alterations to this will be notified here and on the Opry Facebook page. In the meantime, why not join The Virtual Opry Facebook, hosted by Kevin Osborne and  keep in touch with all your Opry friends, get music requests played, have a virtual meal and a drink at the virtual bar, there is even a game of bingo so just make sure you bring along your imagination and join in the fun.  We are  all longing to be back at the Club enjoying great country music and the Opry's  facilities, but it is vitally important that we pull together and combat this devastating virus by supporting our NHS .   Meantime, everyone stay safe and indoors as much as possible.
Any changes on opening will be reported here and on the Opry Facebook.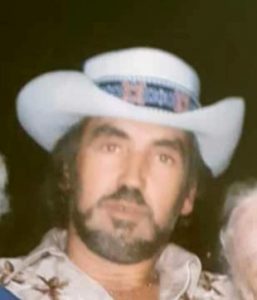 Bert Hoey   Sadly, we have to report the death of popular member Bert who passed away after a long illness on 17th February. It has only just come to our attention, hence the late notice, but our heartfelt condolences are sent, albeit belatedly, to his family. Bert hadn't been able to visit the Opry for a while due to ill health, and he was greatly missed by his many friends. Much loved for singing at the Charity Spot, particularly his Don Williams songs, "Amanda" and "Storms Never Last", and his handsome looks were admired by the ladies  too !   R.I.P. Bert.
Big D's Country Music Quiz
Big D's Quiz No.16 is now up on the Quiz page. Time on your hands due to the situation with Corona Virus ? Pass the long hours finding the answers. Why not have a go to win two free admissions to a Club night once it re-opens.
Gunslingers Re-enactment Group
Meeting every Tuesday in the Opry from 7.30 – 10.00pm, new members always welcome.  Next date will be advised when Club re-opens.
Gun Club
Next meeting will be advised when Club re-opens. Please note change of time – now 7.30 to 9.30 pm.on the first and third Mondays of the month All welcome.
Facebook
There are now over 2,000 members in the Opry Facebook community – and it's growing all the time. Keep up to date on the latest Opry happenings and debates by joining in. It's often a very lively forum! Why not join the Opry Club itself and enjoy reduced admission charges on Fridays and Saturdays?
Website
There have been almost 67,000 visits to our website since June 2014, and 1,159,316 hits. Hopefully this results in more people visiting the club itself. The software has recently been updated to make the site easier to browse on mobile phones and tablets.
Country Music Needs More Support
With bands folding all too often these days it is increasingly urgent for country music fans to support the clubs and bands still in existence. The Opry offers members free admission on a Saturday evening for the payment of just two extra pounds on a Friday evening. You can't get better than that – two nights of live entertainment for just £6! If you know of any members who haven't been at the club for a while, why not encourage them to come along again to enjoy the music, dancing and keenly-priced drinks from the bar! Since the start of 2017 the club has been well attended on Saturdays, and Fridays have also picked up which is encouraging in these strained economic times. Visiting parties (birthdays, hen and stag nights, etc) have helped to swell the figures but we also need the members to support the club as much as possible. Spread the news among your friends and neighbours that the Opry offers a great night out. The number of visiting parties demonstrates that it is seen as a fun venue and is somewhere a bit different to celebrate an event. The Opry can be hired for private functions too – even wedding receptions – at very competitive prices.
News Items
If anyone wishes to submit an article or news item for inclusion on this page, please e-mail it to f.downie@ntlworld.com or hand it in at the club for the attention of Fionna Downie.
Some Useful Links
Here are some websites which might be of interest:
Country Music & Dance in Scotland & Ireland magazine : www.cmdscotland.org.uk
Country Music people magazine: www.countrymusicpeople.co.uk
UK Country Radio: www.ukcountryradio.com
Regal Country with Willie Evans, every Sunday at 10am for 2 hours Willie plays the very best of old and new country : www.regalradio.net
CMR Nashville – Internet Radio: www.cmrnashville.net
Tranquility Wild West Town: www.tranquilitytown.yolasite.com
and check out www.cmib.co.uk, the site for all things country in the UK with many links to the rest of the world.
| Top of Page |